"A HOPE FOR HARTLY" Documentary Premiere – Nov 12th
Date Posted: Friday, October 7th, 2016

Join us at the Premiere of "A Hope for Hartly"

November 12th, 2016

5:30 P.M. – 11:00 P.M.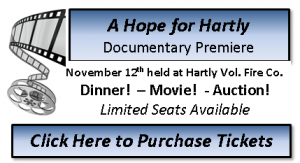 The cost for tickets are $35.00 each. This includes dinner provided by the Ladies Auxiliary of Hartly Fire Company.
There will be a choice of Stuffed Chicken Breast or Stuffed Shells with Marinara Sauce along with sides and desert.
There will be a Cash Bar and Hors D'oeuvres available.
This event is for anyone 18 years and older. Anyone purchasing alcohol from cash bar must provide proper ID.
Tags: A Hope for Hartly, Delaware, documentary, Event, Hartly, Hartly Volunteeer Fire Company, Kuznicki, municipal, municipality, November, small community, Town of Hartly